Sizing your cap and gown can be a bit daunting, since it's not something you do every day! The good news is that graduation gowns are usually very forgiving. Unlike a tailored suit or a wedding dress, they're designed to have a lot of extra room to create a flowing or billowing look. This gives you some leeway in choosing a size.
How Your Cap and Gown Should Fit
Graduation Gowns aren't intended to have a "tailored fit". Your gown should billow and provide plenty of room for movement, but not be so long that you're "swimming" in it. Here's how that should look:
Gowns are meant to billow, so extra material around your body is normal. You want to have plenty of room for movement!
Your graduation cap should be worn with the point of the band in the back. Hang your tassel on the right side (traditionally, graduates switch their tassels to the left side during the ceremony).
Sleeves should end between your fingers and forearm – again, expect the sleeves to billow and give you plenty of room for movement.
The gown should come down far enough to cover your knees, but not so far that it covers your ankles.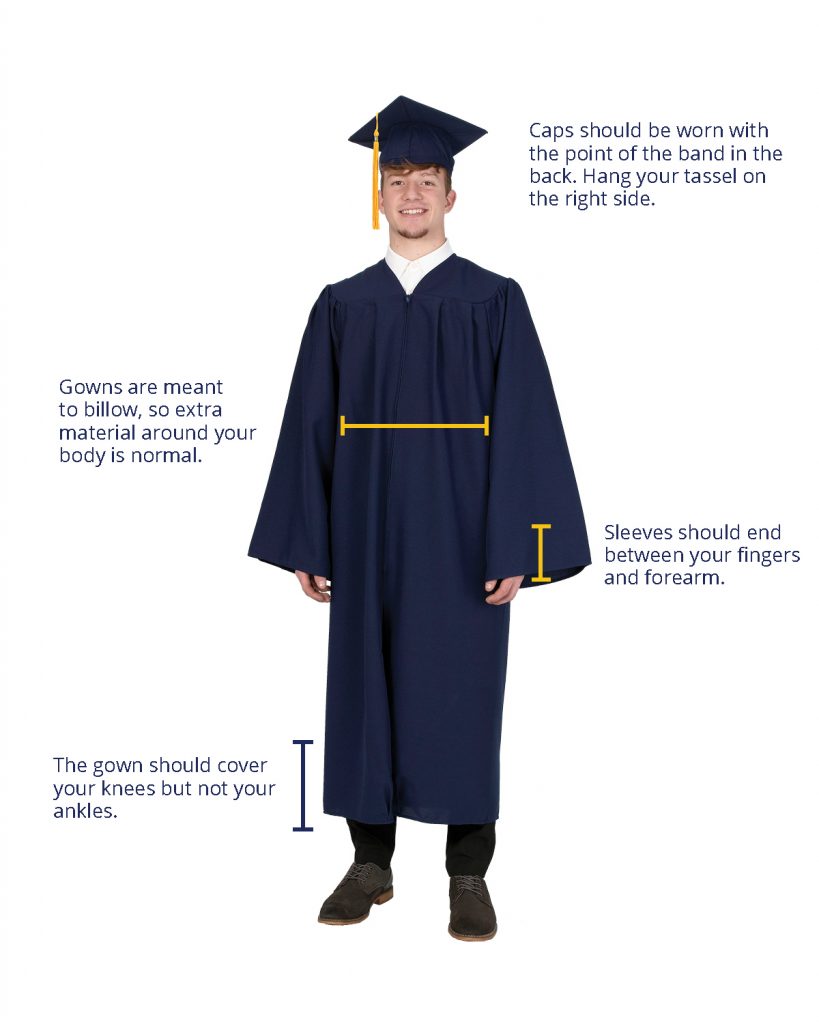 How to Choose the Correct Size Graduation Gown
Every Cap & Gown supplier uses different numbers, so be sure to look carefully at their sizing chart. Don't assume that a size X from one supplier is the same as a size X from another.
Graduation Gown sizes usually do NOT follow sizing numbers or patterns of other clothing. Do NOT choose a gown size based on your jacket or dress size. Look carefully at the size chart provided by the seller of the gown and pick the size that matches your height and weight.
Measure yourself carefully as needed. Most graduation suppliers only use height and weight to determine size, but if they're asking for other measurements, don't guess – take the time to measure so you know you're making the right choice.
If in doubt, go up a size. If it looks like you are "on the fence" between two sizes, it's usually better to err on the side of a larger gown. Because graduation gowns are meant to be billowy, a little extra material usually isn't a problem.
If your chest or shoulders are very broad, consider ordering up a size, or even going to a plus size. The upper part of the gown usually has less wiggle room than the long lower part, and you may find that the "correct" size based on your height and weight is a bit tight if you're proportionately larger towards the top.
How to Choose the Correct Size Graduation Cap (Mortarboard)
Most regalia suppliers use a one-size-fits-all ("OSFA") graduation cap. These caps usually have elastic in the band that will stretch to fit your head. If you have a really large head or a bulky hairdo (larger than 24″ around at the widest point), consider asking for a larger cap. If one is available, it will likely be without elastic, but it's usually easy to get it to stay in place with bobby pins. You certainly don't want it sliding around or falling off on your big day!